AS Roma, one of Italy's most storied football clubs, has had the privilege of hosting numerous legendary players throughout its rich history. These individuals have left an indelible mark on the club and its fans, etching their names into the annals of football greatness. In this blog post, we will take a closer look at some of the famous players who have donned the iconic Giallorossi jersey.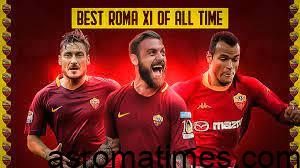 Francesco Totti: No discussion about Roma's legends can begin without mentioning Francesco Totti. The talismanic Italian forward spent his entire professional career at Roma, amassing an impressive record of goals, assists, and captaincy. Totti's loyalty, skill, and leadership made him a symbol of the club and earned him the title of "Il Capitano" among adoring fans.
Daniele De Rossi: Another stalwart who spent his entire career at Roma, Daniele De Rossi epitomized the fighting spirit and determination of the Giallorossi. A versatile midfielder, De Rossi played a pivotal role in the heart of Roma's midfield, showcasing his tenacity, passing ability, and long-range shooting prowess.
Bruno Conti: Widely regarded as one of Roma's greatest wingers, Bruno Conti mesmerized fans with his skill, speed, and dribbling ability. Conti was an integral part of the iconic "Catenaccio" team that won the Serie A title in the 1982-83 season, leaving an indelible mark on the club's history.
Agostino Di Bartolomei: A charismatic and talented midfielder, Agostino Di Bartolomei played a crucial role in Roma's successes during the 1980s. Known for his elegant style of play and exceptional passing, Di Bartolomei was a fan favorite and an influential figure in the club's rise to prominence.
Aldair: Aldair, a Brazilian center-back, established himself as one of the best defenders in Roma's history. His imposing presence, excellent positioning, and ability to read the game made him a formidable force in the backline. Aldair's contributions were instrumental in Roma's Serie A triumph in the 2000-01 season.
These are just a few examples of the famous players who have graced the Roma jersey over the years. Each of them has contributed to the club's success and left an indelible mark on its storied history. The legacies of these players continue to inspire future generations and remind us of the greatness that Roma represents. As fans, we are privileged to witness their talents and celebrate their contributions to the club we love.